The Friends mourn the passing of their beloved colleague, Sylvia Rogers. If you wish to make a donation to the North Castle Public Library's Children's Room in her memory, you can visit our
donation page
.
Author Talk: James Frey
New York Times Best Selling Author
Monday • April 20 • 7:30 PM
General Admission: $10
(Please bring your confirmation with you.)
Endgame: The Calling
Twelve individuals, twelve mentors, and a life and death game set up thousand of years ago. Each player has trained for this moment yet only one can win. The puzzle unfolds in Endgame. As quoted in the Wall Street Journal, "Mr. Frey blends fiction and reality in a different way." Endgame is soon to be made into a major motion picture. Mr. Frey's other books include A Million Litle Pieces, My Friend Leonard, and Bright Shiny Mornings. He is also the Founder and CEO of Full Fathom Five, a transmedia production company.
The Armonk Players
Time Stands Still
By Donald Margulies
Directed by Pia Haas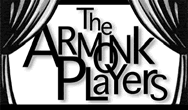 June 5 - June 13
Adults: $20
Students (18 and under): $10
IN RECOGNITION OF HIS MANY CONTRIBUTIONS TO THE FRIENDS,
THE 2014 FRIEND OF THE YEAR AWARD IS PRESENTED TO

DAVID AFRICK